Problema klasik yang tak pernah gagal mengusik. Mengusik siapa? Mahasiswa tingkat akhir tentunya. Sebagai mahasiswa yang baik tentu ingin lulus tepat waktu, dengan kata lain kita juga harus bisa menyelesaikan skripsi tepat waktu. Problema terbesarnya adalah kadang selalu saja ada kendala dalam perjalanannya. Salah satu cara jitunya adalah dengan merencanakannya. Berikut tips skripsi tepat waktu yang sudah terbukti keampuhannya, hehe.
Cari kemampuan dirimu, apa yang paling kamu kuasai
Ini sangat penting. Kamu harus tahu apa kelebihanmu. Pastikan kamu menguasai apa yang sedang kamu teliti. Sehingga kamu tidak akan kesulitan dalam mengontrol ritme penelitianmu.
Tetapkan judul dan objek yang kamu suka
Do what you love. Pastikan kamu melakukan penelitian yang kamu suka. Termasuk topik dan objek yang kamu teliti. Jika kamu menyukainya kamu tentu akan menikmatinya. Sehingga kamu tidak akan merasa terlalu terbebani.
Pastikan sumbernya tersedia/mudah didapat
This is one of the most important contributing factors –source- atau sumber dalam penelitian kamu. Pastikan kamu memiliki semua yang kamu butuhkan atau jika tidak, pastikan kamu mudah mendapatkannya.
Buatlah "jadwal"nya
Well, ini juga sangat penting. Jika apa yang kamu lakukan ter-schedule, tentunya kamu akan bisa melakukannya on the track. Lakukan sesuai dengan kemampuanmu. Kamu tentu tahu apa kelebihan dan kekuranganmu. Perhitungkan itu juga. Jangan paksakan diri. Pastikan apa yang kamu lakukan terjadwal atau -at least- it stays on the track.
Stay happy and healthy
Stay strong. Kamu akan selalu produktif jika kamu dalam keadaan fisik yang sehat. Jangan lupa jaga kesehatan. Selain itu, yang tak kalah penting adalah stay happy. Jangan biarkan kamu berpikir atau mengerjakannya terus-terusan. Refreshing disela-selanya sangatlah penting. Tubuh yang sehat dan happy bisa bikin semangat. Do it.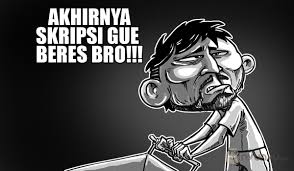 Finally, it all depends on your self. Jika kamu percaya, kamu pasti bisa. Well, skripsi itu seperti kalau kamu naik roller coaster, haha,. Tutup matamu dan nikmatilah roller coastermu, nikmati skripsimu. ROCK IT AND ROLL IT.